Oscar Leonard Lindstrom
From FamilyTree
[edit]
Photos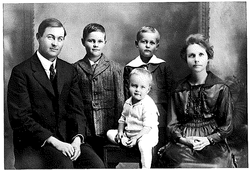 From Lindstrom Book: "The Oscar Lindstrom Family: Oscar Leonard Lindstrom. Everitt Ottie, Harold Floren, Robert Eugene (seated), Alma Johnson Lindstrom"
[edit]
Historical Records
Oscar is recorded in the 1930 Federal Census of Wichita, Kansas: Oscar (53), Alma (42), Everett (21), Harold (18), Robert (13)[2]
Oscar was recorded living within his family in Laird, Nebraska and working as a carpenter in 1920.[3]
Oscar (age 28) and Alma (age 19) were married on Dec 13, 1905 in Holdrege, Nebraska.
Daughter: Alice Ruth Lindstrom (Aug. 31, 1907 - Sep. 10, 1907)[4]
Oscar's son, Everett O. Lindstrom (22 Dec 1908 - 20 Oct 1989), lived in Wichita[5]